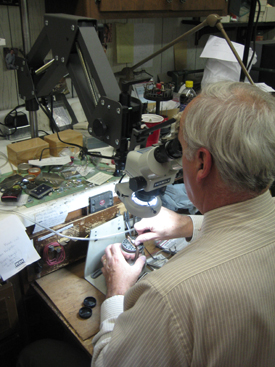 Tucked away in the back of Don's Jewelry & Design is our repair shop. It's no secret that our repair shop is where the magic happens and it's the heartbeat of our store. Our goldsmith's, including Don himself, are trained and skilled in many aspects of jewelry repair and laser welding. Our cutting edge laser welder allows us to repair and restore jewelry that was once considered too delicate or too fragile to repair.
Here's how the repair process works: step one is bring it in! Whatever your project, we'll do a free consultation by taking a look at it, suggesting what repair options you have, and offering a timeline for how quickly it can be completed. Additionally, we usually provide an estimated price for you on the spot.
So if you need any of the following services with your jewelry, our shop should be your first stop:
Restoration of normal wear and tear
Ring sizing and welding
Repair anything broken or missing
Re-tipping ring prongs
Eyeglass repair
Repair of custom jewelry
Jewelry appraisals
FREE cleaning and inspections
We do jewelry repairs in-house and we can usually turnaround most jobs within 10 business days.
At Don's Jewelry & Design, we know every piece we take in has its own story and its own reason why it is being brought to us. We know it means something to you and we will never forget that. We will treat your jewelry with the utmost care and respect from the time you drop it off until the time you pick up your finished, revitalized piece.