Let's Take A Ring Selfie!
Let's Take A Ring Selfie!
Posted on Tuesday, May 24th, 2016 at 3:36 pm by Karen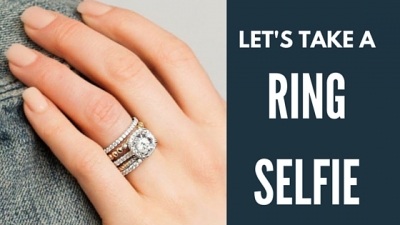 Let's take a ring selfie!
Recently a client came into our store because their wedding ring was missing. They were wanting to work with their insurance company to get a replacement estimate and they were checking with us to see if we had a photo record of their ring. Unfortunately, we did not have a photo record but only a written description of her wedding set. Thankfully the client found their wedding ring and now we are going to update their insurance appraisals to make sure it has proper coverage and include photos for all of their jewelry.
This situation got us thinking. We felt we needed to share that it is important for you have photos of your jewelry on your insurance appraisals. It's also important to check to make sure your appraisal values are current and that you have had an appraisal performed on your jewelry within the last 3 years. If you've never had an insurance appraisal perfomed on any of your jewelry, you really should consider getting it done. If you think it is not important to have an insurance appraisal for your jewelry, at least take our advice and snap a quick picture of your ring just in case. And just for fun, we thought we would share with you how to take the best photo posible of your ring!
Here are a few tricks and tips to make sure your post captures your ring's beauty and joy:
Make sure your ring is sparkling. You can give it a quick dip in a jar of jewelry cleaner or a wipe-down with a professional polishing cloth. If you don't have any jewelry cleaner, visit Don's Jewelry & Design (or your local trusted jeweler) to have it professionally cleaned!
Make sure the lighting is just right. Sunshine is the best for creating sparkle, so try to steer clear of iPhone flashes or indoor lighting. Go for the glint of real sunlight, either outside or by a window.
If you are showing off your ring for the first time, treat yourself to a manicure. Well-manicured fingers will only enhance the beauty of your ring.
Don't rely on zoom for a close up. Using your camera's zoom feature will make your photo look blurry. Instead, try moving your entire phone closer or further away to get the right depth.
Be careful how much detail you share about your ring. We recommend not to share the carat weight or the price of your ring on social media. Instead, share a unique detail such as an engraving inside the shank of your ring is sweet and not too much information.
Strike a pose! Hold hands with your partner. Wrap your hands around a celebratory glass of bubbly or a cup of coffee. Or just find a beautiful backdrop against which to hold your hand. Most importantly, don't over-stage it. You want your ring to be the focus!
Post your pic and write a fun tag about your stunning ring! We would love for you to share with us. Head over to our instagram page and tag @donsjewelryia and hashtag #showdonsyourring.