Introducing our new Naledi Collection!
Introducing our new Naledi Collection!
Posted on Wednesday, June 7th, 2017 at 11:35 am by Karen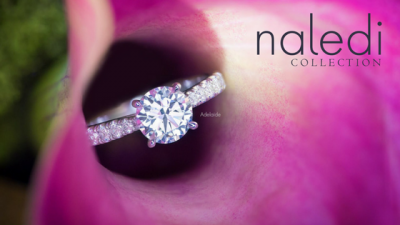 We are excited to introduce you to our newest addition to our store! Our new Naledi Collection allows you to find and share the perfect ring instantly! This latest ring collection is beautiful beyond what the eye can see. Exquisite quality, stunning designs, uncompromising sustainability and a simple buying experience will leave you confident about the choices you make.
The RingFinder App allows you to search for rings in the entire Naledi Collection by choosing the criteria that best represents your needs, style and wants. We love to be able to create a seamless shopping experience, one that connects what happens online with what happens in our store. You can search by style, by diamond shape, or by price, and then share your favorite designs with friends and family!
We are also excited that with our Naledi Collection, you will now be able to view inventory of hundreds of GIA certified loose diamonds in astonishing detail direct from Antwerp, Belgium! Each diamond is represented virtually in 3D using state-of-the-art imaging technology. The experience is so good, and the images so detailed, that it is the system used by experts as an aid to identify the diamonds. Every Diamonds Anywhere diamond is "live" and available for immediate delivery. Access Diamonds Anywhere with the Naledi RingFinder App.
When you choose a diamond or engagement ring from our Naledi Collection, the designer will make a donation on your behalf to Gobal Giving, an organization that funds high impact social and environment programs in the developing world. Visit globalgiving.com to learn more.